We have been taking social distancing very seriously over here at the Boyd household. So it may go without saying that date nights in Annapolis are temporarily off the table! However, Christen and I wanted to make sure we were still supporting our favorite spots around town and there was no better way to get in some quality time than with Stoney River's all-inclusive take out options.
We grabbed a dinner-for-two package from their new temporary take-out menu. Restaurants in Maryland were quick to close from partial capacity service to take-out only in response to the nation's pandemic. Stoney River seemed to respond equally as quickly with a way we could still get our weekly fix with a DIY spin. The ability to maintain even some sort of normalcy in this strange time really meant a lot to us.
Along with a no hassle, ready-to-serve option, the Annapolis and Towson locations are also offering "Cook at Home" meals. We've been living off of salads and quick meals for weeks now, so it sounded like a fun change of pace to take time with each other in the kitchen! Choosing our order and pick up time through their website was quick and simple.
Everything we needed for a precious dinner date was beautiful organized and labeled. We popped on one of our favorite playlists, and got to work prepping our filets. I got a bit nervous by this point because cooking is not my strong suit, but any opportunity to get to spend next to this guy, I'll take!
Stoney River even included the spices we'd need to recreate their great flavor in our own kitchen. They truly didn't skip a detail.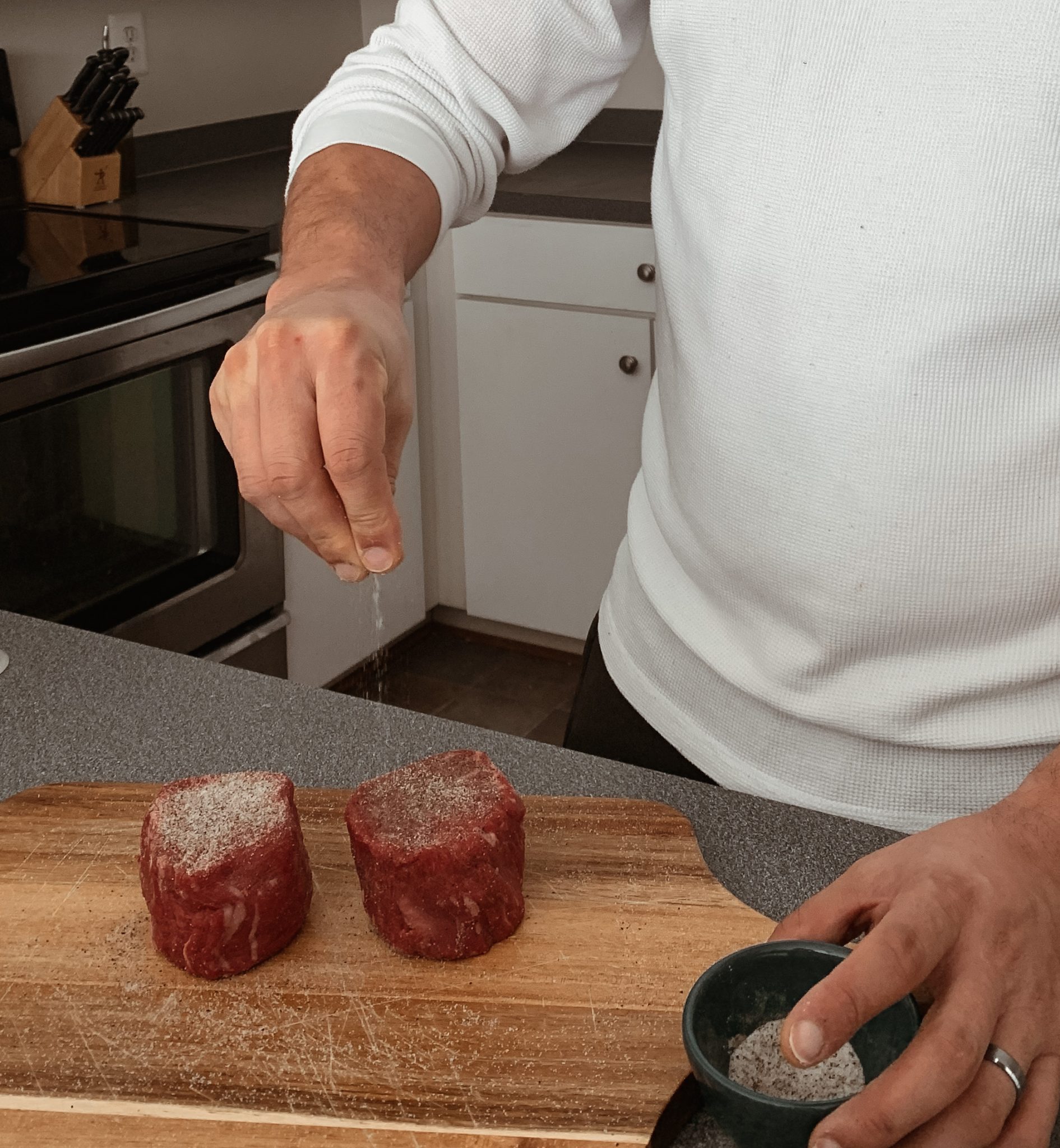 The 7 ounce filets that come with the Cook at Home package we chose were more than generous and Christen enjoyed his Emeril Lagasse moment while prepping. Stoney is also offering a package with a 10 ounce filet and a 16 ounce Strip Steak which is probably what we'll go for next time around!
One of our favorite things about Stoney River is the char they always deliver on their filets. We got nervous to try to broil ours at home, so we pulled out our trust cast iron to try to recreate. I think we did a pretty great job!
And by "we", I mean the hubs. Because while I have many strengths, cooking is not one of them.
Like I said before, cooking-inept over here. But I pride myself in being a great conversationalist. So, I was kind enough to keep Christen company while he did…basically everything. Finding someone who's strengths compliment my weaknesses is easily my smartest adulthood move!
What I can do? Slicing. As it turns out, I'm great at slicing. Being a dry house doesn't mean you can't have pretty drinks! I had fun putting together a simple citrus-infused water for us while Christen did all of the actual work.
Along with all the spices, Stoney River also included all the toppings needed for our baked potatoes and their amazing herb butter. We truly didn't have to use anything from our own fridge or pantry. I loved that they had been so thorough in what we would need to recreate our favorite Stoney experience at home.
And as if we weren't taken care of enough by our Stoney River experience, an enormous piece of Chocolate Fudge Cake and a competitive game of Rummikub was just what we needed to end the night.
We did it! Our experience with Stoney River's carryout options and not killing each other in the kitchen was a huge success, and something we'll add to our monthly rotation, even after this strange time has passed! They are also temporarily offering a "Butcher Shop". You can order and pick up an array of cuts from ribeyes to whole tenderloins by the pound. Many markets around us are incredible lean on meat selections so is also a way we'll be stocking our kitchen throughout the rest of quarantine.
If you're not already, please consider supporting your favorite local restaurants and vendors. This time is unknown and uncharted for so many businesses. This date night was safer than grocery shopping right now, with Stoney River's curbside delivery and it provided us the opportunity to support a business we love. Hop on over to Annapolis Moms Network Instagram page for more of our favorite local spots!