The Kunta Kinte Heritage Festival returns to Susan Campbell Park at Annapolis City Dock on September 23, 2023!
The Festival
In September 1987, the Kunta Kinte Celebration was born in Annapolis, Maryland. Now known as the Kunta Kinte Heritage Festival, the festival celebrates the perseverance, education, and cultural heritage of Africans, African Americans, and Caribbean people of African descent. The festival runs all day with live music, vendors of African art, jewelry, handmade goods, dance performances, and activities for children.
Kunta Kinte
Kunta Kinte was one of 98 enslaved people brought to Annapolis, Maryland, aboard the ship Lord Ligonier in 1767. Despite many years in bondage, he never lost his connection to his African heritage. Kunta Kinte's experience symbolizes the struggle of all ethnic groups to preserve their cultural heritage. (from the Kunta Kinte Heritage Festival website).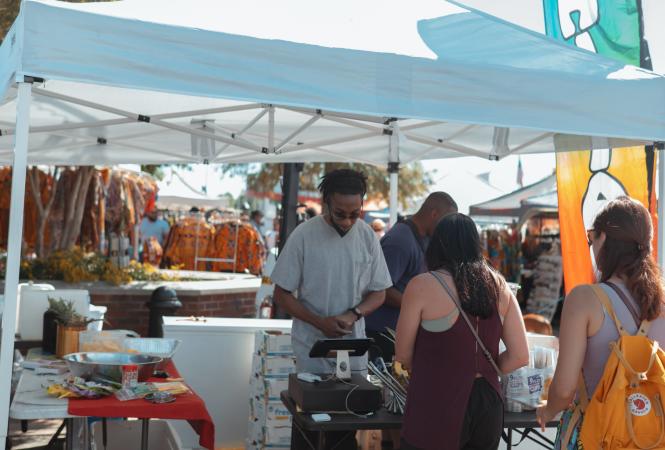 Come check out the amazing vendors at this year's festival—image courtesy of Christian Smooth.
The festival will showcase a range of performers across three stages. On the Main Stage you will find performances by Karnival Bounce Crew and music by Antfarmusic feat. Top5. The Main stage will also play host to a comedy show, a fashion show of African creations, and a performance from the Malcolm X Drummers and Dancers- just to name a few.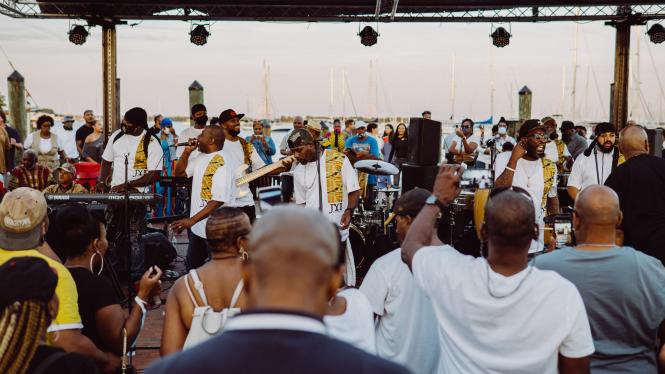 Entertainment at the Main Stage at Annapolis City Dock. Image courtesy of Christian Smooth.

The Community Stage will offer up numerous lectures throughout the day on topics such as genealogy, gardening, and a Blacks of the Chesapeake lecture from Vincent Leggett. The Compass Rose Stage is located by the Alex Haley-Kunta Kinte Memorial and will feature several speakers beginning at 10 AM with a Remembrance Ceremony with the Kunta Kinte-Alex Haley Foundation & Annapolis Drum & Bugle Corps.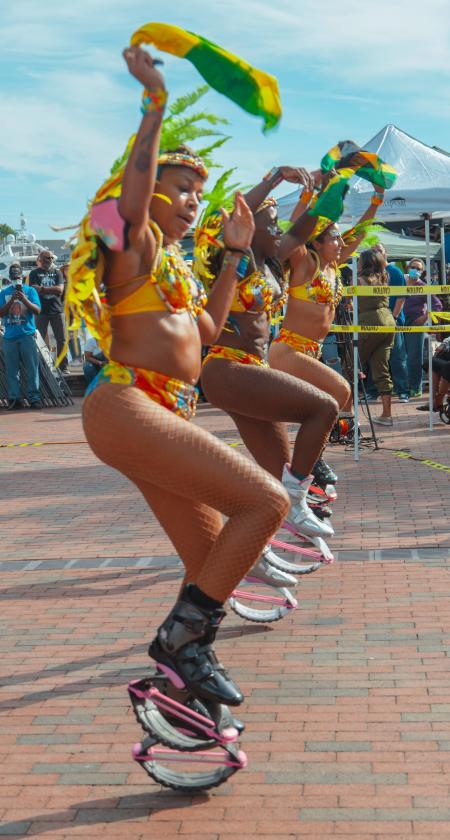 Karnival Bounce Dancers. Image courtesy of Christian Smooth

This year's festival includes something for everyone, including an amazing Kid's Tent with activities and fun for your little ones. To learn more and plan your stay, visit the festival website here.

*Information from Visit Annapolis
33rd Annual Kunta Kinte Heritage Festival
Sat | Sept 23, 2023
10a – 7p
Susan Campbell Park @ Annapolis City Dock
FREE…Family Festival on the dock!
* LIVE Music & Demonstrations on 3 Stages (MAIN Stage | COMMUNITY Stage | MEMORIAL Stage)
* 100+ VENDORS – ARTS | CRAFTS | FOOD | EDUCATION
* CHILDREN'S ACTIVITY TENT by Chesapeake Children's Museum
* VOLUNTEER SIGN UP AVAILABLE ON OUR WEBSITE! www.kuntakinte.org/volunteer
& MORE!
#KKHF2023 HEADLINER | The All Star Purple Party featuring Junie Henderson with Special Guest Sugar Bear
Full Entertainment Information…Coming Soon!
https://kuntakintefest2023.eventbrite.com
We can't wait to see you and your family at KKHF 2023 next week! For more information…Visit www.KuntaKinte.org.
MUSIC | FOOD | ARTS | CULTURE | FAMILY | EDUCATION